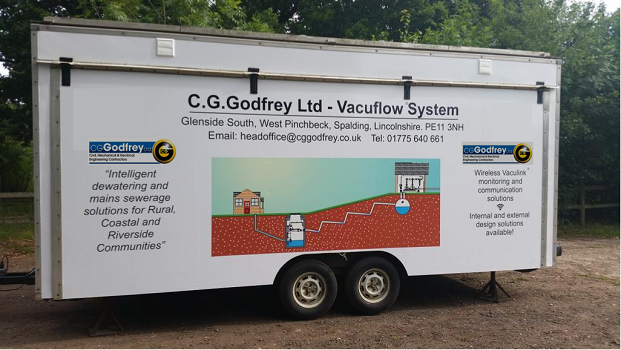 C. G. Godfrey Ltd was established in 1973 and specialises in vacuum sewerage systems alongside our civil, mechanical and electrical engineering operations. We operate across Midlands from our Head Office in Lincolnshire and self-deliver a large proportion of our works using our skilled and experienced resources.
In recent years, we have worked closely with the sewage waste services industry to introduce vacuum sewage technology to the UK through our partnership with Qua Vac; a European leader in the manufacture of vacuum sewer systems. The VacuflowTM vacuum sewer system provides a sustainable, economical and environmentally compliant solution to the collection of wastewater from rural and remote properties (first time sewage connections under the Water Industry Act 1991) that do not have a direct connection to the utility Wastewater company sewerage systems.
We work collaboratively with property developers and their designers to assess the suitability of a vacuum sewer system; and develop technical proposals that meets the requirements of utility water companies and the Environment Agency. When the VacuflowTM system is installed, CG Godfrey are able to provide maintenance and parts supply services to its Customers; as well as access to the VaculinkTM data system that provide asset owners with real-time information and alerts direct from the drainage system through web-enabled software and SMS alerts.
Address
C G Godfrey
Glenside South
West Pinchbeck
SPALDING
LINCS
PE11 3NH
United Kingdom