24 Mar 2020
The Contamination Expo Delivers Again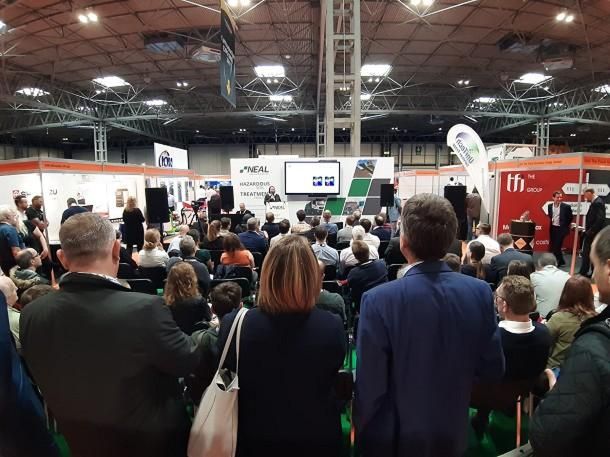 The Contamination Expo Series was an unprecedented success in 2019. It truly cemented itself as Europe's leading event for contamination and geotechnical professionals.
There were over 3,250 top quality visitors at the event this year consisting of mainly senior decision makers, who attended to see the groundbreaking technologies and services that may revolutionise their business in the near future. This article will review some of our favourite features of the 2019 Contamination Expo Series.
Expert-led Seminar Programme
With an increase in unpredictable environmental incidents and ever-changing government policies, the Contamination Expo Series is central to the industry in educating its visitors; teaching about dynamic law and regulation changes that affect businesses throughout the industry.
To do this, the Contamination Expo needed to secure a collection of the industry's best expert speakers, from a collection of the biggest businesses including: City of London Corporation, Jacobs, Highways England, Atkins, and the European Asbestos Forum Foundation.
The seminar lineup kicked off with a packed seminar hall for Yvonne Waterman and Jasper Kosters and further included other keynote speakers including: Dr Chris Stopford, Brian Gash and Sonja Trewavas, Wayne Bagnall MBE, and Dr Saba Manzoor, who talked about subjects including: air quality around the UK, land quality considerations, and asbestos in construction materials.
Industry Leading Exhibitors
If you want to meet the best businesses from the industry, there is no other place than the Contamination Expo Series to meet them all under one roof over the course of two days. The event is so central to the industry now that businesses are deciding to launch their new products there; as it is the best way to showcase it to their target market. Alert Technology Ltd launched their new ALERT device, that is the world's first and only warning device capable of distinguishing airborne asbestos fibres from other less dangerous fibres in real time.
Elsewhere on the floor plan, you were able to see giants such as In-Situ, Sundstrom, 1st Line Defence, SpillAway Projects, and Juta UK all exhibiting new products and services that are all designed to help businesses throughout the industry carry out their everyday tasks in a safer, more efficient way.
Award Winners at Contamination Expo Series 2019
There were three awards up for grabs at the Contamination Expo Series 2019, the Asbestos Award, Innovation Award, and the Land Management Award.
The Asbestos Award celebrates the product or service that brings a new and effective solution to handling, management, detection, or eradication of asbestos. It was awarded to Alert Technology Ltd and their new, innovative ALERT device.
The Innovation Award is given to the product or service that has broken new ground in contaminated environment solutions. It was awarded to Green Sword Environmental for their new blend of specially selected naturally-occurring microbe organisms in a liquid solution that cleans soil, water, and other materials that have been contaminated by hydrocarbon spills.
The Land Management Award is awarded to the product or service that has pushed the boundaries and provides new and effective solutions in land management or geotechnical engineering. It was awarded to Gasmet Technologies for their Gasmet DX4040 portable gas analyser that can measure up to 50 components simultaneously.
Don't just take our word for it...
Visitors and Exhibitors alike were extremely pleased with the Contamination Expo Series this year, with an overwhelming number of responses coming through our emails and social media. Here are a few of our favourites:
Yvonne Waterman, European Asbestos Forum Foundation: "The Contamination Expo Series 2019 has been a hugely interesting event, so worth visiting! Jasper Kosters and I had fun, made so many new contacts, paired up clients with really interesting parties and had some serious brainwave moments."
In-Situ: "An excellent Contamination Expo event. We were very pleased with the whole event and the quality of visitors to our stand… we look forward to next years event."
Kayleigh Smith, In-Situ: "We've had a fantastic few days at Contamination Expo Series, now it's time to pack the stand away for another year. Very grateful to have had so much interest and meet with so many clients. We'll be reaching out to all our visitors over the next few days!"
UKATA: "#Contam19 that's a wrap! Thanks to all of our team, speakers, event organisers, fellow exhibitors and delegates for a great show!"
What to Expect at Contamination Expo Series 2020
The expo played host to a wide range of innovative products and services this year, so after seeing this, we wanted to develop an innovation focus at the next event. So, in 2020, we will be introducing the Innovation Zone and Theatre, the best place to see the latest and most ground breaking products and services that are changing the face of the contamination and geotechnical industries.
Additionally, there has been great demand to exhibit at the Contamination Expo Series next year, with 73% of exhibitors rebooking on site for the 2020 show. This, coupled with the year on year growth the Contamination Expo experiences means that we have had to request additional floor space. There will be 30% more floor space for the show next year, so there will be even more businesses for you to discover and network with.
Other feedback suggested that the exhibition should become more interactive, so keep tight and look out for announcements on the Contamination Expo website to see how it will become more interactive next year.
Looking ahead to next year, the event will take place on Wednesday 16th and Thursday 17th September 2020, again at the NEC Birmingham. Make sure you book time off and look out for when our free ticket registration pages go live!
If you would like to be a part of the Contamination Series Expo 2020, please get in contact with Daniel Rogers daniel.rogers@roarb2b.com